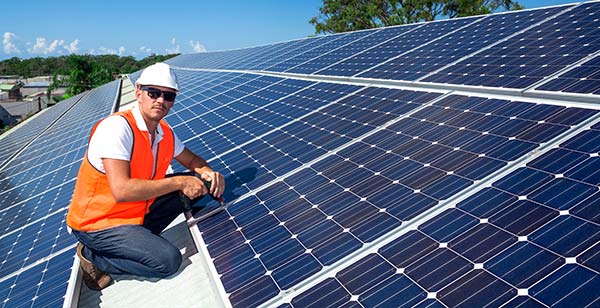 About Solus Energy Solutions
Solus Energy Solutions are a Brisbane based, family owned business offering the complete energy saving package from Solar Power, Solar Hot Water, Battery Storage and Energy Management Controls to homeowners and businesses throughout Queensland.
Solar Power
Solus Energy Solutions firmly believe that the energy network is now embracing the same chance as the Internet did 15 years ago. As non-renewable resources slowly become a thing of the past, solar energy is as viable as ever as a household or commercial power provider. Solus Energy Solutions provide service in all respects of sustainable energy and reducing costs to your power bill. Our expert Energy Specialists pride themselves on helping the customer save money on their power bill and providing a professional service. For our solar power installations its all about quality, we use tier 1 solar panels and inverters for all of our customers and we only ever use Clean Energy Council Designers and Installers.
Solar Hot Water
As a Rheem Solar Specialist we offer the very best in Solar Hot Water Systems, manufactured right here in Australia for over 75 years. Rheem is the largest appliance manufacturer in Australia, manufacturing over 70% of all Australian made water heaters. At Solus Energy Solutions we strive for quality and we found that within Rheem's product line. Rheem provide both Roof Mounted and Split Solar hot water systems, both manufactured using stainless steel. Stainless steel is a natural anti-corrosion material, therefore ensuring longevity of your system. A Rheem stainless steel solar hot water system is not only an excellent environmental investment but a financial investment too with consumers receiving household hot water energy savings of up to 70%.
Solus Energy Solutions
Testimonials
Solus was reliable and prompt, provided good advice and did a great job. Recommended and thanks.
Very happy. Service was very good, very engaging, answered all of my questions, organised the contractors well, and did the job in half a day.
Thank you for organizing the installation of our solar system. It was a pleasure to deal with your company and, in particular with yourself, for carrying out the work on our solar system in a professional and well organized manner. It is wonderful in today's world to find a company who is willing to give good old fashion service.
Thank you Solus for everything. We are very happy with our solar power and solar hot water system. You are great to deal with and made everything so smooth and easy right from the quote to installation.