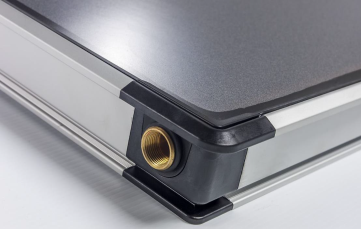 The Australian designed collector is an innovative product with five patents pending. The quality of the manufactured finish is critical to the marketplace.
Innovative features include the use of robotically applied silicon adhesive technology to seal the collector glass, frame and backing sheet against the
extremes of weather found throughout our global market. Through the use of robotic automation for component assembly and adhesive application
the finish tolerances are controlled to within +/-0.5mm in corner joint sealing and glass placement.